With LAST CALL almost here (CAN YOU BELIEVE IT!) I wanted to celebrate by going all out for the Cocktail Series Finale!
Plus, I just love giving things away!
Things like…
Or signed copies of all of The Cocktail Series!
It's easy to enter!
All you have to do is take one the below pics from The Cocktail Series and add your favorite quote. Share them (as many as you want) to Twitter (@alice_clayton), Facebook (https://www.facebook.com/AuthorAliceClayton), Instagram (authoraliceclayton) , etc. and make sure to TAG me so that I see it.
Example from LAST CALL to kick this off!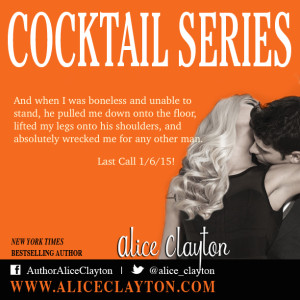 Pics to use!
The quotes can come from any of the Cocktail Books! WALLBANGER, RUSTY NAILED, SCREWDRIVERED, MAI TAI'D UP!
Deadline: December 31st!