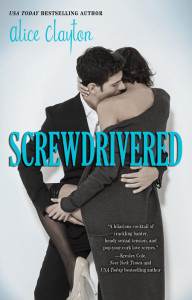 Readers back for a third round of the bestselling Cocktail series will enjoy a madcap romantic comedy about bodice ripping and chest heaving, fiery passion and love everlasting. Plus a dash of paperwork filing and horseshi—wait, what?
By day, Viv Franklin designs software programs. By night, Vivian's a secret romance-novel junkie who longs for a knight in shining armor, or a cowboy on a wild stallion, or a strapping firefighter to sweep her off her feet. And she gets to wear the bodice—don't forget the bodice.
When a phone call brings news that she's inherited a beautiful old home in Mendocino, California from a long-forgotten aunt, she moves her entire life across the country to embark on what she sees as a great, romance-novel-worthy adventure. But romance novels always have a twist, don't they?
There's a cowboy, one that ignites her loins. Because Cowboy Hank is totally loin-ignition worthy. But there's also a librarian, Clark Barrow. And he calls her Vivian. Can tweed jackets and elbow patches compete with chaps and spurs? You bet your sweet cow pie.
In Screwdrivered, Alice Clayton pits Superman against Clark in a hilarious and hot battle that delights a swooning Viv/Vivian.
Also within this book, an answer to the question of the ages: Why ride a cowboy when you can ride a librarian?
Where To Purchase:
Enjoy an Excerpt:
He knelt down in front of me and assessed the situation.

"One would think it unwise, Vivian, knowing the condition of this rotten wood, to traipse about so carelessly," he said as he poked at the wood around my left leg, which was buried to midthigh. I'd been sitting half on and half off the broken wood for the better part of twenty minutes, and starting to get more than a little agitated.

"One would think that after getting punched in the nose one would be unwise to provoke me," I said sweetly.

He turned his gaze from my leg to my face, his eyes calculat- ing. "You're the one stuck in the porch. You sure you want to pick a fight with me right now?"

He had me there, dammit. "Okay, fine. No fight picking. But do something, Clark."

"I'm waiting for the magic word." "Um, now?"
"Really?
"Asshole?"

"Come on."
"Clark!"
"Vivian."
"Oh, fine. Please help me, Clark. Please, please, please?" I

managed, gritting my teeth.
"That wasn't so bad, was it?" he smiled, his face lighting up. "Still not out of this porch here," I said.
He nodded. "As personally gratifying as it is to see you like

this, there is a bit of storm coming and I'd rather not be out here when it hits. So let's see what we can do here, shall we?"

"Yes, shall we?" I repeated, leaning back so he could get a bet- ter look at how I was wedged.

"Pardon me, I need to get a little closer here. I just—Ah, yes, I can see it there." Clark had leaned across me, one arm on either side of me as he peered through the broken board to the ground below. His head was almost flush with the floor. And flush with what else was on the floor. Flush with my— Oh my. I unexpect- edly felt his breath on my bare thighs. I was dressed in running shorts that left little to the imagination, and my imagination was bombarding my senses with the most inappropriate images.

All I could think about was if he just moved about three inches to the left, he could probably get me off with his jaw alone. And how in world had I never noticed that it was so very strong, so very chiseled, so very lightly covered with Sunday-evening stubble? Stubble that could so very easily drag back and forth across the inside of my legs, up and down, and right and left, and then up, up, and away to my—

"I'm going to have to go down," he said, and it took all the strength I had not to bury my hand in that flippy soft brown hair and take him at his word.

"Sorry?" I asked, panting. I was panting, for Christ's sake! Over a librarian?

Mmmm, over a librarian . . .